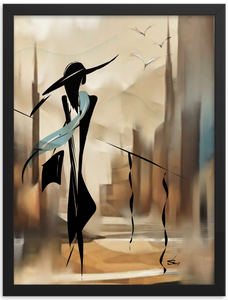 Anticipation on the Shoreline
Regular price
$50.00
$0.00
New: This limited edition signed giclée print represents Tatyana's latest 2022-2023 collection, featuring her signature lines placed on the stylish background with elements inspired by the Artdeco movement. The museum quality print is ink-jetted on the beautiful matte paper with the latest premium Ultra ChromeHD Pigment Ink, designed to last through many generations.
Available in two versions: framed or rolled in a tube:
Alder, semi-hardwood .75″ (1.9 cm) thick frame from renewable forests
Paper thickness: 10.3 mil (0.26 mm)
Paper weight: 5.57 oz/yd² (189 g/m²)
Lightweight
Acrylite front protector for framed
Hanging hardware included for framed
Blank product components in the US sourced from Japan and the US
Blank product components in the EU sourced from Japan and Latvia
FREE SHIPPING WORLDWIDE for orders over $150 USD!
This evocative artwork is trying to capture the essence of contemplation and anticipation, while exuding a serene ambiance. A minimalist line art depiction of a woman stands as the centerpiece. Adorned with a sophisticated hat and an elegantly flowing scarf, her silhouette is both enigmatic and graceful, symbolizing an air of mystery and femininity. The cubist-inspired background paints an abstract representation of a coastal cityscape, where straight lines and geometric patterns merge to offer a dynamic contrast to the organic fluidity of the central figure. The sparingly placed seagulls further up in the sky not only accentuate the vastness of the surroundings but also evoke a sense of freedom and limitlessness. The entire composition resonates with feelings of hope, yearning, and the sheer thrill of moments yet to unfold. The artist's deft use of muted tones and deliberate brush strokes allows viewers to immerse themselves in this moment of quiet reflection and anticipation: what is next on my horizon? 
Disclaimer: This artwork derived from personal observation, imagination, sketch or photograph. All Copyrights and Reproduction Rights are retained by artist Tatyana Markovtsev / Feel The Line. This artwork cannot be reproduced by any process without the expressed written permission of the artist.
---
More from this collection