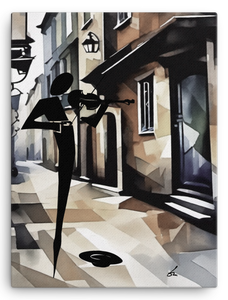 Old Town Melodies
Regular price
$7,950.00
$0.00
Original Wall Art (1/1)
This work represents Tatyana's latest 2023 exploratory collection, which utilizes her signature lines in unique new ways using various experimental backgrounds on canvas (digital art/acrylic).

Size: 30" x 40" x 1,5" (stretched)
This artwork portrays a singular line art depiction of a town violinist, starkly contrasted against the multifaceted geometry of a cubist cityscape. The musician stands as a beacon of life amidst the desolate streets, his figure simplified to essential lines, yet emanating a profound depth of emotion through the strains of his instrument. A hat lies empty before him, symbolizing both his solitary existence and the silent audience he plays for. The city, rendered in a cubist style, showcases buildings reminiscent of an old town, with stone streets that seem to echo tales of a time long past. Notably absent are any signs of life, amplifying the solitude of the violinist. Yet, the persistent act of playing the violin amidst this emptiness conveys a powerful message: hope persists, and as long as the music plays, life continues. The artwork encapsulates the resilience of the human spirit, finding joy and purpose even in moments of isolation.
Medium/Material: Mixed Media (Acrylic,Digital)  on Canvas
FREE SHIPPING WORLDWIDE!
This unique artwork is exclusively created and signed by the artist, has an accompanying Certificate of Authenticity. Limited edition prints are available.

Disclaimer: This artwork derived from personal observation, imagination, sketch or photograph. All Copyrights and Reproduction Rights are retained by artist Tatyana Markovtsev / Feel The Line. This artwork cannot be reproduced by any process.
---
More from this collection