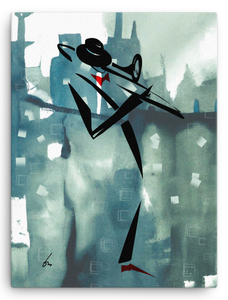 City Echoes
Regular price
$2,650.00
Sale price
$7,950.00
Original Wall Art (1/1)
This work represents Tatyana's latest 2023 exploratory collection, which utilizes her signature lines in unique new ways using various experimental backgrounds on canvas (digital art/acrylic).

Size: 30" x 40" x 1,5" (stretched)
Within this contemporary piece lies an elegant synthesis of minimalism and motion. The central figure, masterfully rendered in sleek line art, captures the essence of a trombone player, immersed in the fervor of his performance. The artist skillfully employs a reductionist approach, stripping away the superfluous to focus solely on the fluidity of the musician's form and the instrument's structure. This simplicity is in contrast with the abstract, watercolor-esque cityscape, evokes a sense of solitude amidst urban chaos, suggesting the timeless universality of music as an escape.The deliberate choice of a stark color palette, punctuated only by the musician's vivid red bowtie, further emphasizes the emotional depth and focus of the piece. This artwork stands as a testament to the power of minimalistic design to convey deep, resonating themes of passion, solace, and the enduring spirit of music.
Medium/Material: Digital/Inkjet  on Canvas
FREE SHIPPING WORLDWIDE!
This unique artwork is exclusively created and signed by the artist, has an accompanying Certificate of Authenticity. Limited edition prints are available.

Disclaimer: This artwork derived from personal observation, imagination, sketch or photograph. All Copyrights and Reproduction Rights are retained by artist Tatyana Markovtsev / Feel The Line. This artwork cannot be reproduced by any process.
---
More from this collection