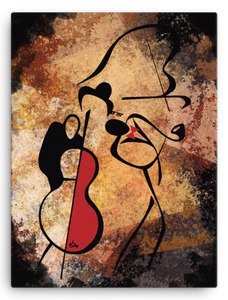 Jazz Band
Regular price
$7,950.00
$0.00
Original Wall Art - Acrylic on Canvas (1/1)

This work represents Tatyana's latest 2019-2022 collection, which includes dynamic compositions on canvas painted with acrylic that utilize abstract colorful backgrounds in combination with her signature lines complementing and completing each other. It's a rare occasion, when Tatyana's original 1/1 work of art is presented for sale via the internet.
Size: 30" x 40" x 1,25" or 76cm x 102cm x 3cm (stretched)

Medium/Material: Acrylic on Canvas
FREE SHIPPING WORLDWIDE!
Upon a canvas stretching wide, the story of a passionate jazz ensemble unfolds in bold and intricate line art. The painting captures the very essence of the jazz era, enveloping the viewer in a world of pure melody and rhythm.
The central figure, a saxophonist, stands tall, his silhouette defined by strong, deliberate strokes of black acrylic. The curve of the saxophone contrasts against his poised stance, and the very lines seem to vibrate with the music he's producing. To his left, a double bass player plucks at the strings, his fingers dancing over the instrument's long neck. The bold lines convey the resonance and depth of each note he plays.
A pianist is depicted on the right, fingers flying over ivory keys, creating a cascade of melodies. The fluidity of the lines around him suggests the swift movement and dexterity required for his craft. Behind the trio, a drummer brings the beat, with cymbals and drums outlined in sharp, angular lines, capturing the staccato rhythm that underpins the ensemble's harmony.
The background is awash with gentle hues of reds and browns, reminiscent of a smoky jazz club in the heart of a city at night. The soft gradient serves as a stark contrast to the bold line art, making the musicians pop out, emphasizing their importance.
The artwork does more than just depict a scene; it invites the viewer into a world of soulful music, exuberant performances, and the golden age of jazz.
This unique artwork is exclusively created and signed by the artist, has an accompanying Certificate of Authenticity. Limited edition prints are available.
Disclaimer: This artwork derived from personal observation, imagination, sketch or photograph. All Copyrights and Reproduction Rights are retained by artist Tatyana Markovtsev / Feel The Line. This artwork cannot be reproduced by any process.
---
More from this collection