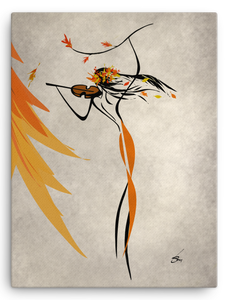 Autumn Playing Violin
Regular price
$6,400.00
$0.00
Original Wall Art (1/1)
This work represents Tatyana's latest 2022-2023 art-deco inspired collection, which utilizes her signature lines on canvas (digital art).
Large Size: 40" x 60" x 1,5" (stretched)
Medium/Material: Mixed Media (Acrylic,Digital)  on Canvas
"Autumn Playing Violin" elegantly captures the union of music, human form, and the natural world. The central figure, a woman rendered in graceful line art, is seen from the back, engrossed in playing a violin. The minimalist strokes beautifully encapsulate her form, with the curves of the violin and the arch of her back in a seamless, flowing continuity, suggesting the deep immersion and passion of her performance.
Adorning her head is a crown of flowers, each petal and leaf meticulously outlined, bridging the realms of the human and the ethereal. The floral halo symbolizes inspiration, beauty, and the cyclical nature of life, perhaps hinting at the rejuvenating power of music and its ability to connect us to the natural world.
Set against a subdued background, the artwork emphasizes the silhouette of the violinist and the vibrant splash of autumnal colors from the flowers, drawing the viewer into the intimate moment of musical rapture. The piece resonates with themes of passion, oneness with nature, and the transcendental power of art.
FREE SHIPPING WORLDWIDE!

This unique artwork is exclusively created and signed by the artist, has an accompanying Certificate of Authenticity. Limited edition prints are available.
Disclaimer: This artwork derived from personal observation, imagination, sketch or photograph. All Copyrights and Reproduction Rights are retained by artist Tatyana Markovtsev / Feel The Line. This artwork cannot be reproduced by any process.
---
More from this collection